While the Central Asia Rally itself surely is the highlights among all our trips, there ares till some moments and some places which stick out. It was a tough choice, but here are our favorites from the 2018 rally!
Splendid Silk Road Architecture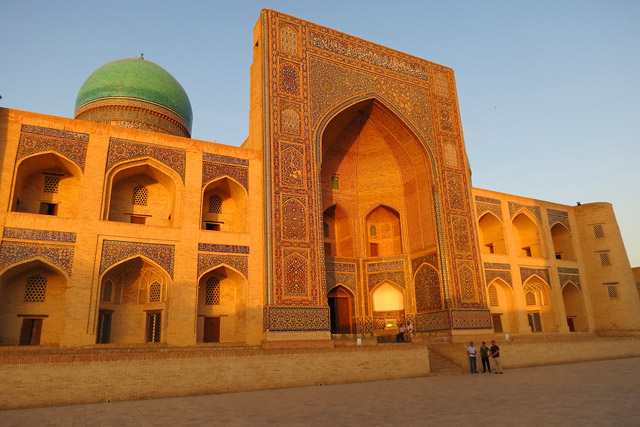 We've seen the great Silk Road cities Khiva, Bukhara and Samarkand a couple of times now, but there is always another alley and another ancient building with intricate mosaic work to discover. Khiva with its intact old town offers a unique glimpse into past times, while Samarkand and it's mixture of modernity and antique buildings give living history a new definition.
Scenic Lunch Breaks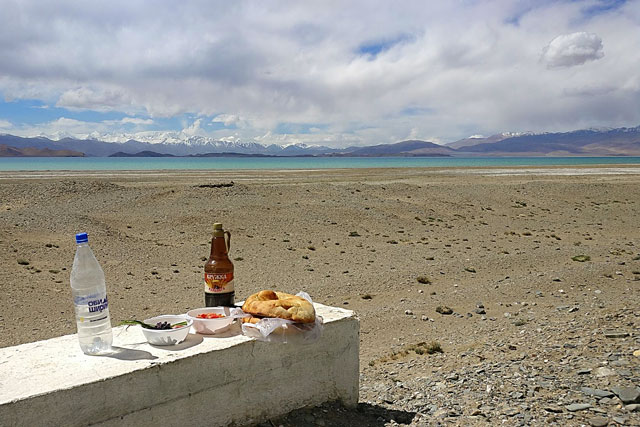 Nothing beats a simple lunch of bread, tomatoes and sausage with a view like that and no other human soul in each direction for 100 km! While there are many spots to choose from during our 2 week long trip, Karakul Lake in Tajikistan on an altitude of more than 3645 with its bright turquoise water under the almost unnaturally blue sky, framed by snow covered mountain peaks, might easily be the most impressive one.
Talking About Mountain Peaks…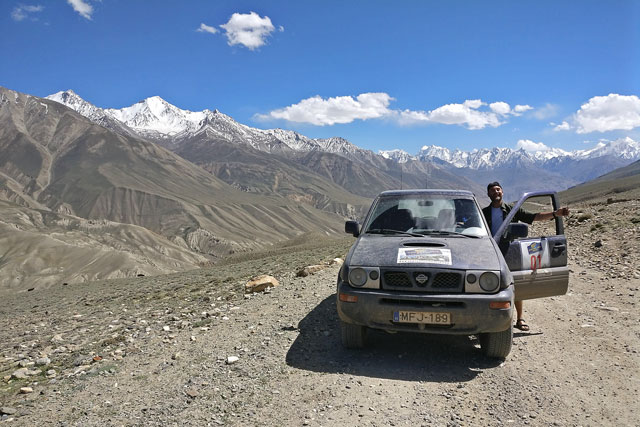 It might be quite a long drive just to get the perfect background for a picture with your, but it is definitely worth it! On the left side you can catch a glimpse of Afghanistan while climbing up what must be Tajikistan's most impressive road – steep cliffs and thrills to raise your adrenaline level all included.
Private Guided Tours to Ancient Buddhist Sites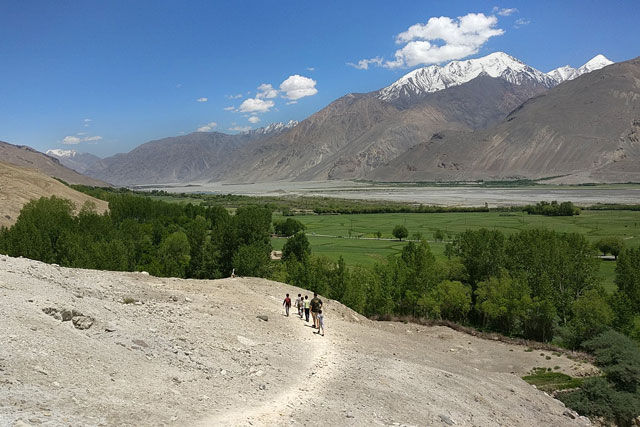 The "hello children" of Central Asia are bound to steal every visitors heart. They've made it their mission to welcome every passing car with enthusiastic waving and a loud chorus of "hello". If you stop for a bit, they even make formidable guides to all the hidden spots in their neighbourhood.
Romantic Petrol Station Sunsets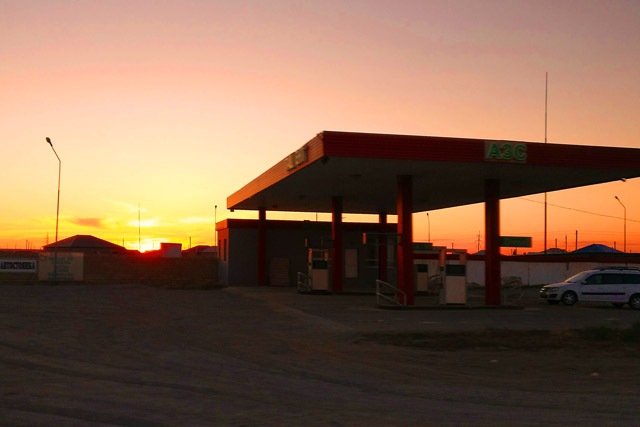 Who would have know, that a petrol station can make such a lovely setting for a sun set.
Alay Valley in Kyrgyzstan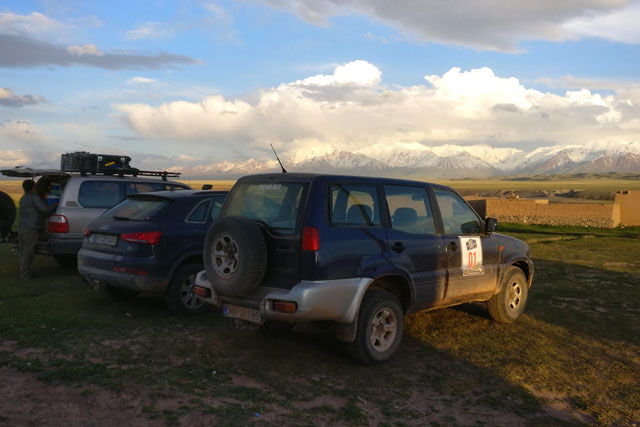 Alay Valley, which we enter after crossing from Tajikistan into Kyrgyzstan is hands down our favorite valley. With its fresh green valley bottom framed by white mountain peaks as far as the eye can reach it makes one  realize, in the most cliche way possible, how small and unimportant humans truly are compared to nature.
The thin air of Ak-Baital pass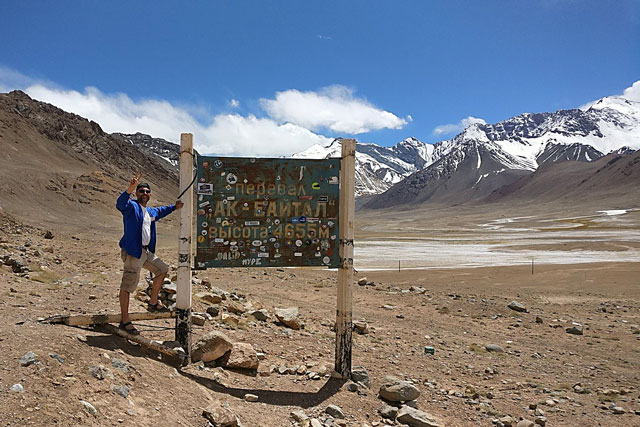 Breathing can get a bit hard at the highest spot of the Pamir Highway, the Ak-Baikal pass at 4655 m above sea level. Each year we even meet people who take on this road on bikes and who are definitely a completely different kind of crazy
Too. Much. Food.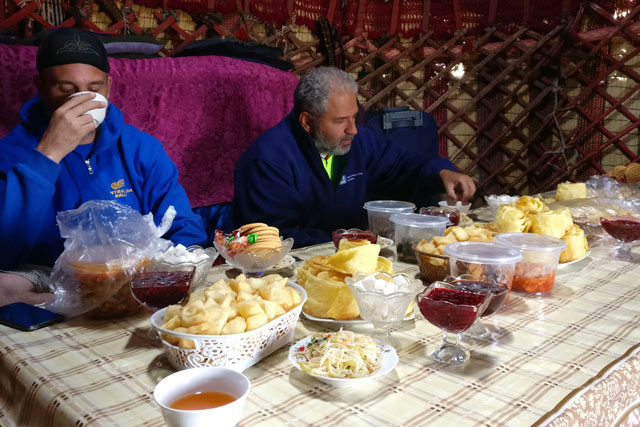 Wherever you go in Central Asia, you'll be received with a bountiful table which has everything from biscuits, nuts, jams, pastries and bread to soups and the national dish pilaf. Hospitality is still taken seriously here and you'll definitely not leave hungry. Or with any space left in your stomach.
The Travel Scientists Song-Kul Nomad Games

This year we had the honor to witness the first (not so) official Song-Kul Nomad Games, with participants from Tajikistan and the USA. Competitions were held in several disciplines like tug-of-war and planking. Our young Kyrgyz competitor had to quickly learn not to underestimate his american opponent, his senior by more than three decades. In the end, luckily, nobody's pride got hurt (too much).
Endless Horizons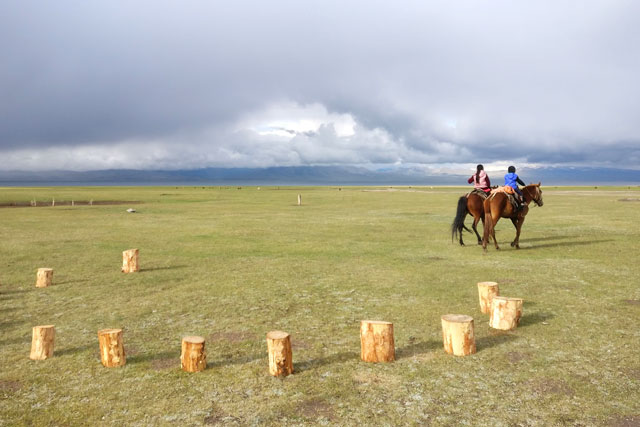 These days, the horizon is a quite unusual sight for city people. Not so in Central Asia. We've stocked up on our horizons till 2020, when the next Central Asia Rally will take place. We still have spots open, so grab your chance and sign up for the adventure of a life time!

Are you crazy enough to come along for the ride? Then join us on
one of our next adventures
. Get a team together and let's see you at the starting line! If you want to join us in spirit, like us on
Facebook
or follow us on
Twitter
and
Instagram
to keep up with our latest antics.