Writing a culinary guide for India is a life task, so various are its countless cuisines, so many dishes are there to taste and so many different versions of each recipy exist in each village and each family. Nevertheless, we tried to pick our favorites, the ones where you we would say you haven't really experienced India, if you don't try them. Feel free the add to the list, it is far from complete!
Dosa, Tamil Nadu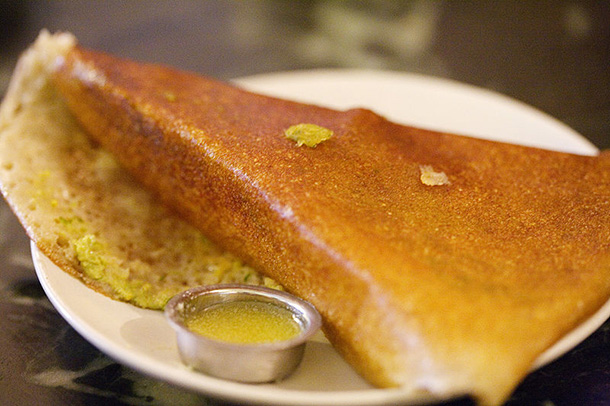 While dosas look somewhat like crepes, appearance is the only thing they have in common. First mentioned in a text from the 12th century, this ancient south Indian dish is made with a fermentted batter out of rice and black gram. It is usually served with a filling and sambar and chutney as sidedishes.
The most famous variation is probably masala dosa, stuffed with spiced potatoes. But there are dozens of other traditional and modern versions of this south Indian staple dish.
No trip to India is complete without dosa, don't even think about skipping it.
Kerala, Alleppey Fish Curry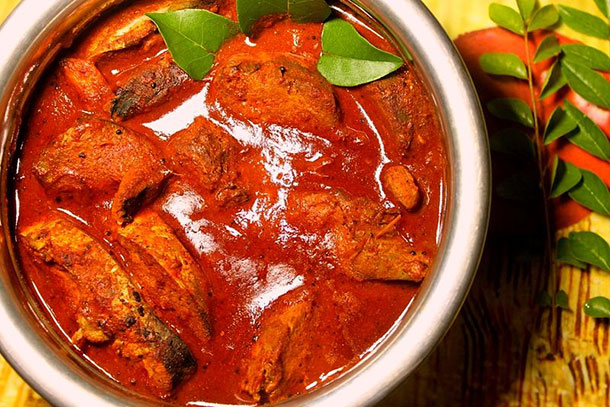 This is a not spicey fish curry which gets its special tangy taste from the combination of coconut milk and raw mango. The fish is coated in a special spice mix and the sauce is prepared with mustard seeds and fenugreek. It's just the right dish to be enjoyed under the sheer endless, paradise-like palm groves of Kerala.
Vada Pav, Maharastra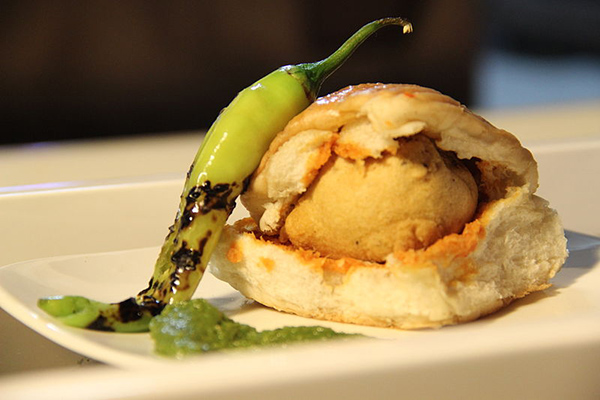 By now vada pav is a popular snack all over India, but it has its origins in the street food stalls of Mumbai, and that's still the place where you get the best one. Vada pav consists of a deep fried potato dumpling with chili, garlic and other spices inside a bread bun. It's usually served with an additional green chili and one or more chutneys. Vada pav costs pennies and will give you enough energy to face Mumbai's crazy traffic with your rickshaw.
Rava Fried Fish, Goa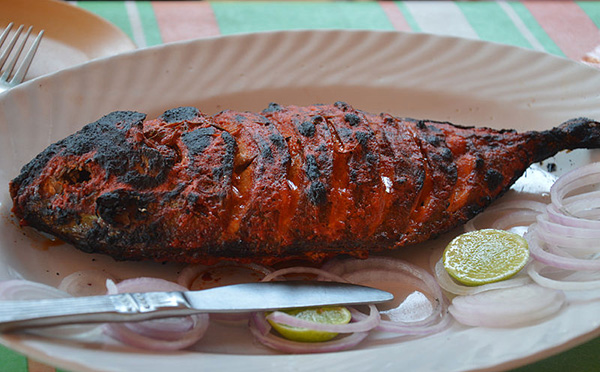 Enjoy some fish freshly caught and brought directly to the markets and restaurants in Goa. Rava fried fish has a spicy marinade, is then coated in rava, which gives it its crispy texture, and then fried till golden brown. Even people who don't like fish won't be able to help but love this simple and quick dish.
Thali, Karnataka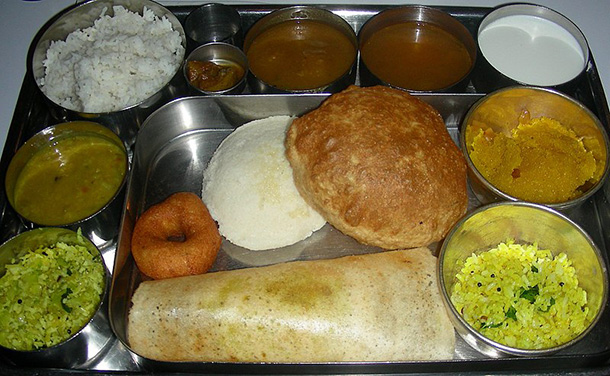 Thali is actually not a specific dish, but rather a way to serve many different dishes at once. A thali is a complete meal served on one plate (plate also being the original meaning of the word), with small quantities of several dishes in small bowls, together with rice and bread.
Thali is loved all over India, but it is sad to have originated in the south. Once considered rich people's food (ain't nobody got time and money to prepare several dishes for just one meal), it is now available basically everywhere and a favorite for lunch and dinner. Restaurants of different price classes serve it. Watch out, as soon you've almost finished one if its componets, eager waiters will give you a refill, so don't forget to bring a huge appetite!
If you'd like to try authentic Indian cuisine yourself, sign up for one of our two Indian adventures, the India's Cup and the Rickshaw Challenge, which both give you the opportunity to explore the real India!
We are off to our favorite Indian restaurant now and can't wait to share a meal with you on our next trip together. And don't forget to also check out part 1 of our culinary guides for the Central Asia Rally.
Are you crazy enough to come along for the ride? Then join us on
one of our next adventures
. Get a team together and let's see you at the starting line! If you want to join us in spirit, like us on
Facebook
or follow us on
Twitter
and
Instagram
to keep up with our latest antics.