Day Five should be one of the highlights of the Caucasian Challenge 2016: driving up the narrow and winding mountain roads to Ushguli, one of the highest-altitude continuously inhabited villages and, after that, crossing the 2600-meter high Zagor Pass.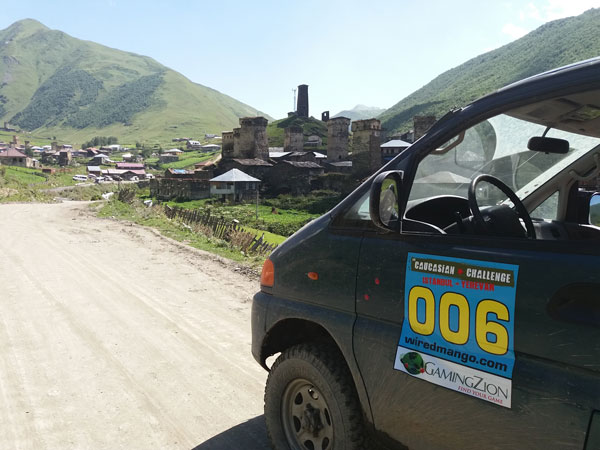 A Strange Crew on a Strange Brew: a Few Hiccups in Fluidity
But first things first: a significant number of party-maniacs, especially members of Team Care Bears and Team Llanfair Railway, had to get over last night's hangover. We are not sure if the advocates of a newly invented chacha-rum cocktail (50 % chacha, 50% rum. Don't try this at home, except if you are a professional!) would still defend the genius of their idea as vehemently as they did the night before…
As if to mirror the experimenters' inner weather, the asphalt road out of Mestia gradually gave way to potholed gravel roads, often interlaced with clear mountain streams and populated more by cows than by cars. The view of old houses and defense towers on both sides in lush meadows hinted at what more was to come.
Ushguli: Majestic Mountains and a Spot of Folk Wisdom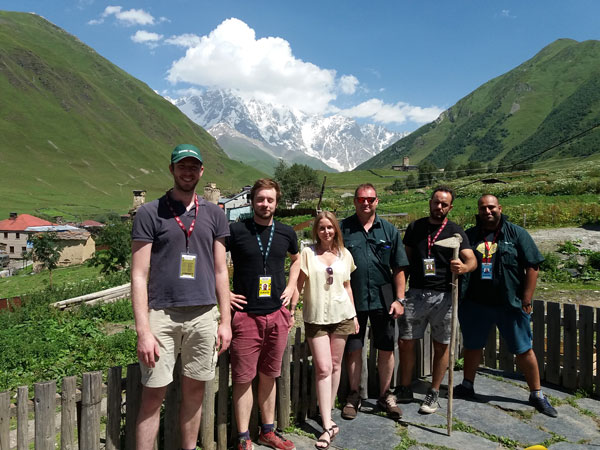 When the valley to Ushguli finally opened up, the teams were taken aback by the majesty of the ancient town, skirted by lush green mountains and snow covered glaciers.
Having come to terms with the sheer beauty of it all, some stopped for a leisurely lunch, while one person decided to take their still-lingering hangover to  the strategically placed magical pillows just a few steps away that came cleverly disguised as the stairs of the local grocery store.
Then the shop owner came out. Luckily, not to shoo the poor soul away to kick his professional reputation back up the few notches the spectre of his drowsy doorstep-dweller had cost him, but because he was seriously concerned about our friend's well being. As soon as he realized what was up, he disappeared, then reappeared  brandishing a generous dose of his very own homemade ma–haaa–gic potion, chanting: "100mm chacha, go-hoo-ood. 200ml chacha, su-hooooopa-hooooopa!"
However, all the forever-to-remain-unnamed member of team Care Bear could do in response was to slo-mo lift his megaton eyelids and gravely gaze into drizzle in the middle distance that only he could see.
But his my-skull-is-a-cheese-grater-on-the-inside look soon began to fade, and he gradually shuffled back to the land of the living, with each eye in its corresponding socket, focused on the next challenge ahead of us all: the Zagor Pass.
The Zagor Pass: a Drive Through a Land Enchanted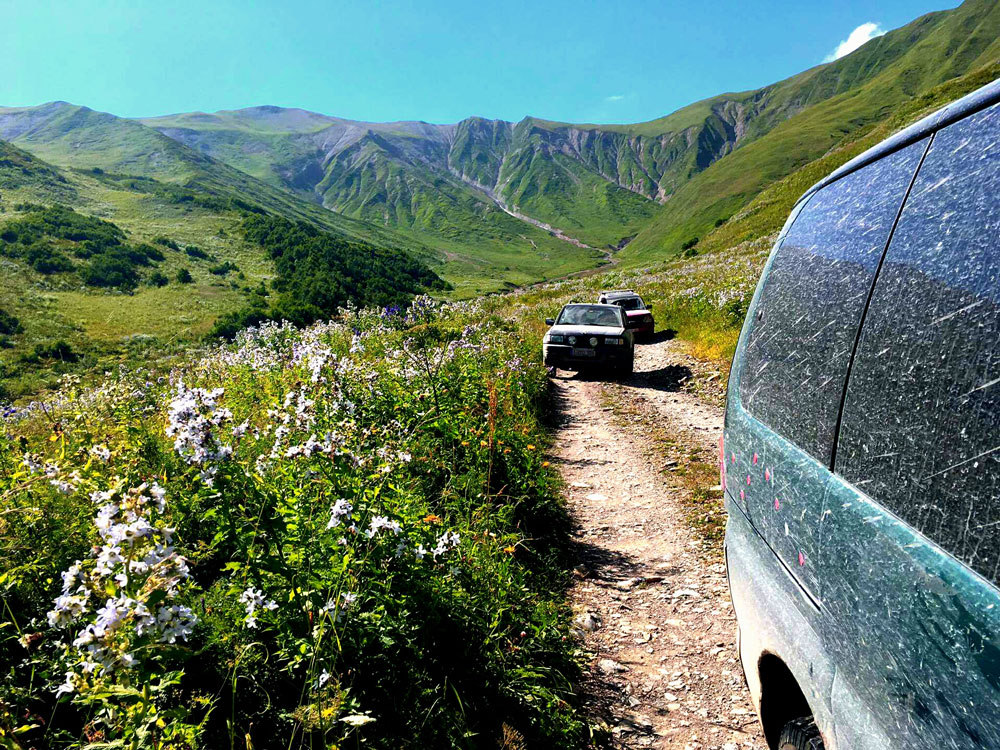 Poised for the most treacherous stretch of our journey, our intrepid adventurers took a deep breath and stepped on the gas (and indulged themselves with a barely-there smirk if perched in 4x4s, arr!).
The beauty of the green meadows, the mountain wild flowers blossoming like in spring, and one magnificent valley opening after another were worth every drop of the drivers' sweat. After a 10-hour trip, our teams finally arrived in Ambrolauri, where team LLanfair Railway – as per usual – was already waiting for us, beer in hand.
The day wound down in a local restaurant/bar/disco/joint under the town hall, which was out of chacha (cue sideways glances shot at those partying Georgians on the other side of the room who had drunk it all!), but served delicious food and – woohoo! – a massive helping of  echt Georgian party vibe.
Are you crazy enough to come along for the ride? Then join us on
one of our next adventures
. Get a team together and let's see you at the starting line! If you want to join us in spirit, like us on
Facebook
or follow us on
Twitter
and
Instagram
to keep up with our latest antics.