The Caucasian Challenge 2016 has ended a while ago and it's about time to ask our Caucasian Challenge 2016 World Champions Tony and Rob from Team Llanfair Railway a few questions about their time on the road. They are quite special pair and it's not that easy to have a serious conversation with them, but see yourself!
Why did you decide to sign up for the Caucasian Challenge and what did you expect from it?
Tony: I came last year and I missed a lot. My car was lousy and I had several breakdowns. So I wanted to come again, to make sure that I had the full experience.
Why I came in general is first of all my experience with the Central Asia Rally, which was absolutely wonderful. I liked the whole concept of the Travel Scientists. Also, the Caucasian Challenge is coming to countries, Armenia and Georgia, which I had no experience of. And when I mentioned to Rob that I was going and if he'd be interested, he said yes.
Rob: I am just as crazy as Tony, travelling a lot. He is a big inspiration, travelling all over the place. He spoke to me about it and I just fell in love with it straight away, thinking "Yap, all we have to do is convince his daughter" (Editor's note: Rob is basically Tony's son in law.)
Tony: And my wife!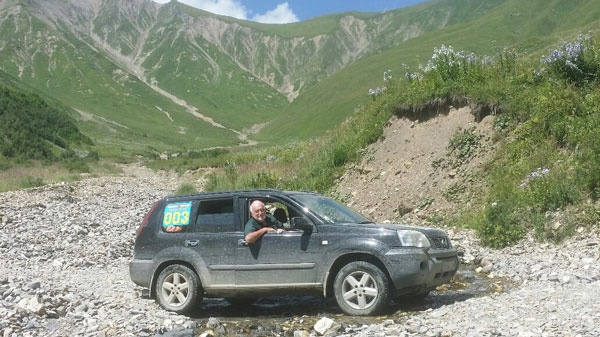 What was your scariest experience on the road?
Rob: Personally for me, it's probably Tony's underpants.
Tony: Which ones?
Rob: The ones that are hanging above my bed.
Tony: This is very personal…
Rob: No, there was nothing scary about it. It was just really enjoyable.
Tony: Nothing. I like taking risks. I like adventure. But I wouldn't do anything which is stupid. There is nothing in this trip or the Central Asia Rally, which is risky. Risky to the extent that it is dangerous. To me it's been good fun.
Rob: I am not really scared of anything. And Tony is only scared of cockroaches. So it wasn't really that bad.
Tony: It's been great.
Rob: It's been lovely.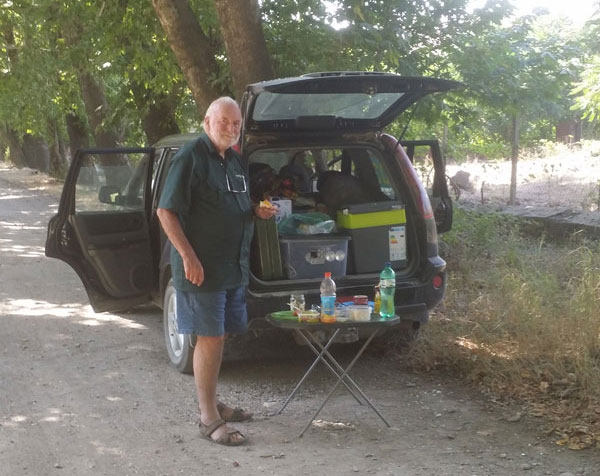 What was your most positive experience during the Caucasian Challenge?
Tony: Achieving. Meeting a challenge.
Rob: And meeting people with the same mindset. Lovely people like you (Editor's note: Stop it, you charmer) and everybody else. Everybody is really friendly, very positive.
Tony:  As you know, Rob and I don't mess around in the mornings, we don't faff around. We get going. We have a little picnic table, we get it out.
Rob: We have an English picnic.
Tony: An English picnic and  off we go.
Rob: To see really unusual places and like-minded people.
Tony: Yes, and everybody on this trip is like-minded and it is so literally good fun. And it's nice to be able to meet up with people in the evening. Frankly, I am not looking forward to driving all the way back to England on my own. Not because of the distance, but because I won't be with people in the evening for a chat and to have a beer.
What was your highlight of the rally?
Tony: I think the mountain run. The Higher Caucasus from Mestia.
Rob: Yes, that was good. Really good off-road, that was fantastic.
Tony: Already going to Mestia was great, with really good scenery on the good road.
Rob: The whole trip was wonderful.
Both: Awesome! (both giggling)
What's your most "only in the Caucasus" experience?
Rob: I've never experienced so many cattle on the road. But I also haven't been to India.
Tony: Just trying to find your way on a road with different directions and no road signs. And just thinking "Oh well, that's why we have u-turns."
Rob: And the people are really friendly.
Any recommendations/advice for future participants?
Rob: Don't have 2 hours lunch breaks.
Are you crazy enough to come along for the ride? Then join us on
one of our next adventures
. Get a team together and let's see you at the starting line! If you want to join us in spirit, like us on
Facebook
or follow us on
Twitter
and
Instagram
to keep up with our latest antics.