On the morning of day 5 of the Rickshaw Challenge Malabar Rampage, the teams felt like leaving home, since they got so pampered in the hotel in Kochi, that returning to the Indian roads sounded too harsh for them. Alas, the adventure has to go on and to got back into their three wheeled companion, steering it along the Malabar Coast towards the next destination – Calicut.
A Change in Mode of Transport
The teams spontaneously took the ferry from Fort Kochi to cross the backwaters, even though it was not planned in the day sheets. This is a paid ferry service for two wheelers, three wheelers and cars, which the locals use to avoid the 15 km long road further inland. We, the service team, decided to follow them.
We did not get on the same boat, but the ferry leaves every 10 minutes, and we were sure that the teams could handle without us. And when we saw the pictures they shared with us later that day, we realized how much fun they had ferrying across the backwaters in their colourful rickshaws.
The road to Kochi to Calicut is as narrow as it can get. After 50 km it passes through a town called Mahe, which belongs to Union Territory of Pondicherry and the main attraction is the liquor shops on both sides of the road. The road from Mahe is extremely scenic with sea view from the valley which you can enjoy while driving your vehicle.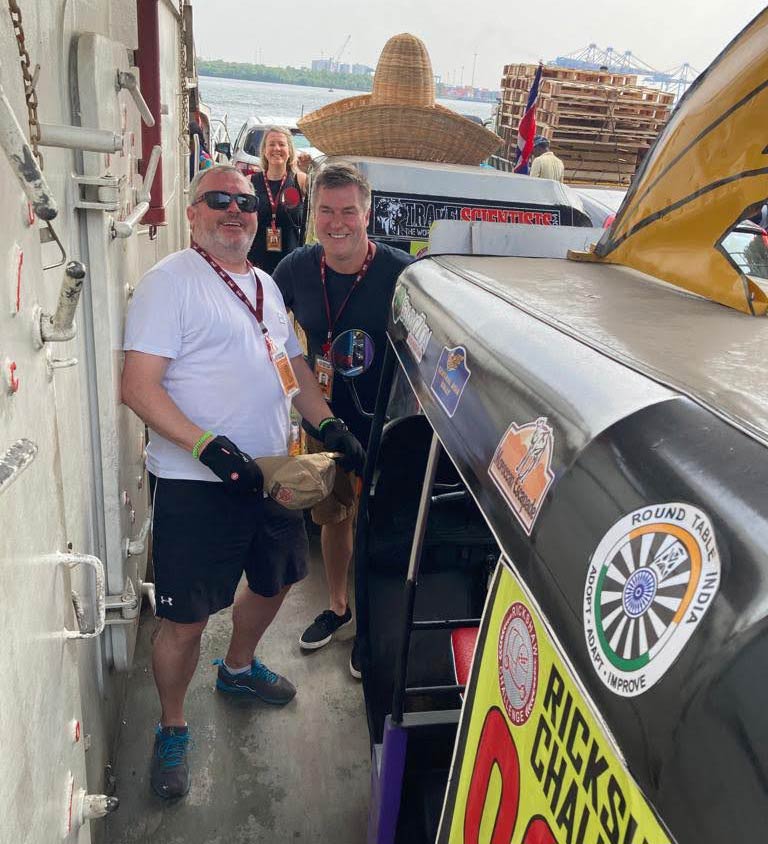 Good Food is Important
After Kochi, we bumped into the teams, who had stopped for their lunch in a highway hotel (in India restaurants are often called hotel, despite not offering accommodation) in between. Latter when they reached the base hotel they were telling us how good it was. We always list a number of recommendations for lunch and dinner in our day sheets, so we can be sure that our teams are always well-fed. Yet they are of course always free to discover new gems along the route, and according to them, this hotel definitely was a very delicious gem.
It took them another 4 hours of steady drive to reach the base hotel. After the flag off of the 4th day of the Rickshaw Challenge Malabar Rampage 2022 the teams were all on their own to explore. The day sheet had some suggested bars and liquid lounges. By that the time came to wrap up the day with the updates. We shall continue on the next day with more updates and interesting stories. Till then, bye!
Read more about the Rickshaw Challenge and our other trips this year here or visit our dedicated Rickshaw Challenge website. Follow us on Facebook to always be up to date.